FREQUENTLY ASKED QUESTIONS
WHICH CITIES DO YOU OFFER DELIVERY?
click here to see the list of cities.
We offer delivery for gifts to pakistan in more then 50 cities
WILL THE GIFT LOOK EXACTLY SHOWED IN THE PICTURE?
Every city has there own arrangement and presentation, therefore the product may look slightly different then pictures.
ARE THE ITEMS GIFT WRAPPED?
Yes all items are gift wrapped with the vendor name printed on
DO YOU DELIVER FREE GREETING CARD?
Yes ! We Deliver Free Greeting Card with every order
WHAT ARE YOUR DELIVERY TIMINGS?
Our Delivery timings are 11AM to 8 PM.
DO YOU DELIVER ON SUNDAYS AND HOLIDAYS?
We offer holiday/Sunday delivery in Karachi, Lahore, Islamabad, Pindi, Multan, Sialkot, Gujranwala, Faisalabad, Gujrat, Jhelum, Mirpur AK, Hyderabad, Peshawar, Quetta, Sargodha, Wah Cantt, Taxila, Hasan Abdal, Attock, Wazirabad, Sahiwal, Bahawalpur, Dina, Lalamusa and Kharian. For all other cities unfortunately there is no Holiday services available.

IS SHIPPING FREE OR ARE THERE ANY HIDDEN CHARGES?
Yes Shipping is Free! you only pay the price you see on our website for the product.
WHAT IF THE RECEIVER DOES NOT RECEIVE THE PRODUCT?
We offer 100% guaranteed delivery on time or else 100% refund..
DO YOU ACCEPT CREDIT CARDS ? WHAT WILL APPEAR ON MY CREDIT CARD STATEMENT?
Yes, we accept Visa, Master, Amex and Discover credit/debit/gift cards and will appear as " Pakistan Gift Courier Inc" on your credit card statement.

I DONT HAVE A CREDIT CARD HOW CAN I ORDER ?
The best and quickest way is to pay from visa gift cards which are easily available on all major stores. click here to check out stores close to you, offering visa gift cards. Its simple, you pay them on counter and they issue you a gift card which can be used online on our website.
Money transfer through western union or money gram can also be done. For more information on that, please contact us
I WOULD LIKE TO PAY VIA BANK TRANSFER OR JAZZ CASH ?
Local or International customers who have online banking access in Pakistan or can visit local banks or Jazz dealers in Pakistan, can pay us via Bank transfer or JAZZ Cash, Below is the information.
Jazz Cash
Telephone 03009225821

Bank Transfer
Standard Chartered Bank, Karachi Pakistan 08151277301
Money can be transferred as per website rates in PKR and order information can be emailed or whatsapp with transaction details to obtain order id from our agent.
IS YOUR SITE SECURE TO GIVE CREDIT CARD INFORMATION ?
Our payment pages are very secure. When you reach our credit card detail input page, you will see a padlock appear on the bottom right hand of the page. On this payment page, your card details are secured within 256-bit encrypted sessions.

We use world famous authorize.net gateway for approvals and after taking an approval, your credit card information is immediately deleted from records. Your credit card information is very safe
DO YOU ACCEPT PAY PAL ?
Paypal is currently disabled until further notice.
CAN I CHOOSE MY OWN DELIVERY DATE ?
Yes our order form gives you a choice to choose your own desired delivery date.
CAN I CHOOSE MY OWN DELIVERY TIME ?
You may put a time request but time deliveries are not guaranteed as it all depends on suppliers and areas of every city. However we do offer guaranteed midnight delivery at extra charges.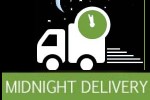 WHAT IF I AM NOT HAPPY WITH THE QUALITY OF PRODUCT DELIVERED ?
We use one of the best suppliers in Pakistan, however in some cases the customer may not be satisfied from the quality, in such case, the sender or the receiver needs to register a complaint within 24 hours after delivery, You may email us at sales@pakistangiftonline.com or call at our help line to register a complaint.
I AM BIT CONCERNED IF MY GIFT WILL BE DELIVERED ON TIME AND THE WEBSITE IS SECURED AND RELIABLE?
We are doing this business since 1997 and have served more then 100,000 satisfied customers, We are PCI Compliant website and use worlds best gateway to pass all credit card information. You may checkout our face book page below to read reviews of our customers.
Send Gifts to Pakistan



Join Us at Facebook &
Receive regular discounts & updates